Send a Kid to Camp
By sending a kid to camp, you are allowing them to escape from the urban environment and disconnecting them from their electronic devices. Most of the kid's Friends of Camp Concord scholarship experience the outdoors and overnight camping for the first time. And, some eat their very first s'more!
It costs on average $650 per camper for a week that includes roundtrip transportation to South Lake Tahoe, all meals and activities, including a visit to the treetop ropes course.
Your support and donation will have a 100% direct impact on shaping kids and their love of the outdoors while creating lifelong friendships.
Please consider a monitary donation tonight or participating in our auction by visiting smorecampconcord.ggo.bid
S'more Camp Concord, is a virtual campout to celebrate Camp Concord and to bring us together with the cancellation of the annual Dan Ashley's Friends of Camp Concord Golf Tournament. S'more Camp Concord will include golf tournament favorites such as Dan Ashley as the emcee, live and silent auctions, a tribute to the late Jorge Santana, Family Camp photo montage, and of course making s'mores by the campfire.  VJB Cellars and Wellington Cellars will be hosting the virtual tasting beginning at 5:45 PM.
JORGE SANTANA TRIBUTE
In May of this year, we lost our dear friend, board member, and passionate Camp Concord supporter, Jorge Santana. Jorge and his daughter Misha began attending Camp Concord 32 years ago, in 1989. From their first visit, they began a unique tradition of collecting and then hiding odds and ends from their stay on the campgrounds before leaving each year. The following year, Misha would look for the previous year's treasures using a map she created. In 2017, at the annual Friends of Camp Concord Golf Tournament, Jorge revealed to Misha that he had kept all their treasures through the years and allowed them to be displayed, sharing their tradition with the broader Camp Concord community. This is only one example of how exceptional Jorge was and how special Camp Concord was to him and his family.
Jorge's dedication and support of Friends of Camp Concord came to light many years ago when the program faced financial hardship and was being considered for closure. He spoke at a City of Concord City Council meeting of its importance. Every fall since, at our annual Dan Ashley's Friends of Camp Concord Golf Tournament, Jorge performed with our host Dan Ashley's band, and always entertained us with a solo guitar performance during dinner. In 2017, Friends of Camp Concord honored Jorge for his passion and commitment to send underserved kids to Camp Concord by commissioning a local artist to create a bench that now sits at camp. 
Tune into S'more Camp Concord as we pay tribute to Jorge.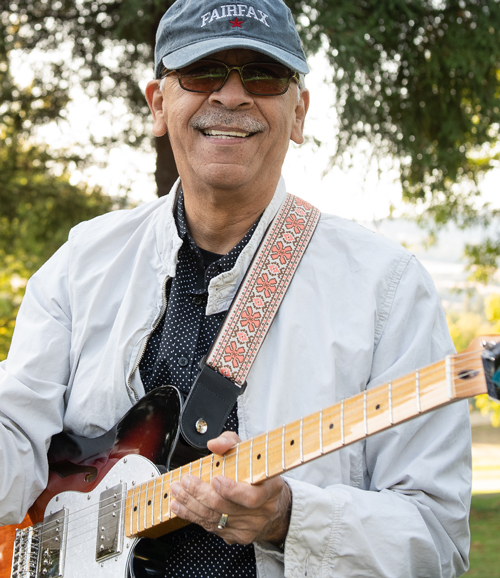 Thank You to Our Sponsors